Riometer measurements
Finnish Riometers
Riometer measurements started 1965 and all Finnish stations since 1970. The Finnish Riometer Chain maintained by SGO includes observation sites in Kilpisjärvi, Ivalo, Sodankylä, Rovaniemi, Oulu, Jyväskylä and Nurmijärvi. Furthermore, in collaboration with the University of Lancaster, U.K., riometers were operated in Vidsel and Abisko (Sweden), in Ramfjord (Norway), in Hornsund (Svalbard), as well as the Imaging Riometer IRIS in Kilpisjärvi.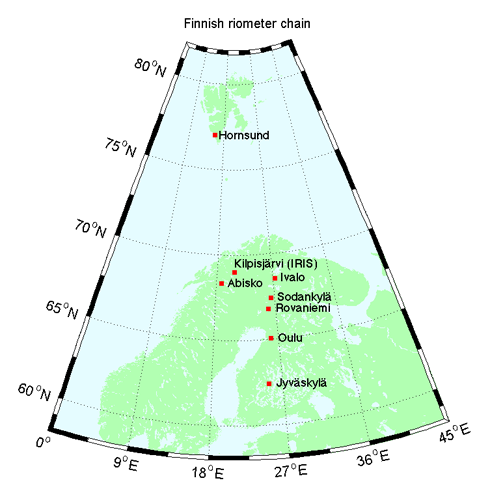 Locations of active riometers.
Wide latitude coverage: 62°N to 70°N, Svalbard 77°N.
Observer in charge:
Tero Raita
Sodankylä Geophysical Observatory
Tähteläntie 62
FIN-99600 Sodankylä, Finland

Phone: +358-(0)294-480864
Fax: +358-(0)16-610284