SLICE Meteor Radar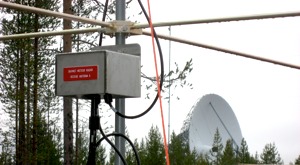 The Sodankylä – Leicester Ionospheric Coupling Experiment (SLICE) is a project established in 2007 with the aim to operate a meteor radar at Sodankylä for the minimum duration of one solar activity cycle. The radar was paid for and is owned by the University of Leicester, UK. The infrastructure and all operational costs are taken care of by the University of Oulu, Finland. The data will contribute to our studies of the coupling of atmospheric layers through modelling efforts by both partners. Moreover, the radar will be used as a test bed for novel radar measurement methods like random inter-pulse periods and pulse coding techniques.
Data from this radar in Eastern Fenno-Scandinavia will complement existing measurements in Andøya, Tromsø, Kiruna and on Svalbard. This will be of particular importance in combination with the proposed EISCAT_3D incoherent scatter radar and other ground-based measurements in the European Arctic.
Most importantly, the SLICE facility is closely linked with the Kilpisjärvi Atmospheric Imaging Receiver Array (KAIRA) facility, which is our platform for developing incoherent scatter receiver technology. In addition the broad-band KAIRA receiver will be able to utilise signals of variety of meteor radars and other transmitters in the vicinity of Kilpisjärvi, and thus hopefully also SLICE.
Collaboration and Data
We welcome collaboration on the use of this facility. If you are interested in the data provided by SLICE, please contact Dr Alexander Kozlovsky (see below).