Sodankylä geofysiska observatorium
Observationer och forskning sedan 1914
Sodankylä geofysiska observatorium är ett oberoende forskningsinstitut som tillhör Uleåborgs universitet och ligger i Lapplands län 120 km norr om polcirkeln. Vid SGO utförs geofysiska långtidsmätningar och forskning inom den övre atmosfärens och nära rymdens fysik.
Adress:
Sodankylä geofysiska observatorium
Tähteläntie 62
Telefon:
Staff list
FIN-99600 Sodankylä
FINLAND
email:
Kontakta oss
Koordinater:
Geografiska:
67° 22' N, 26° 38' E, 180 m
Geomagnetiska* :
64.1°, 119.2°, -23.2°, dip = 80.0°
Korrigerade geomagnetiska* :
64.1°, 106.7°, L=5.25
* IGRF-11 modell för 2010
Mer information om observatoriet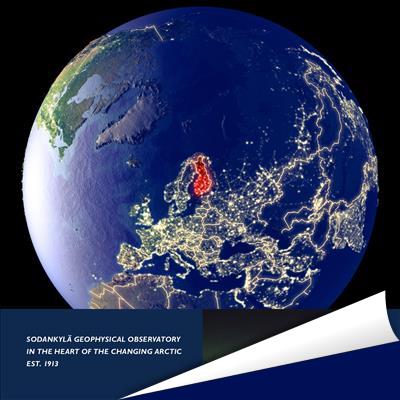 Ukraine
Due to the attack by Russia on Ukraine, SGO does not answer requests for data or technical information from Russia or Belarus for the time being.
Also scientific collaboration and visits are suspended.
This is in accordance with the guidelines of the Finnish Ministry of Education and Culture.
Aktuellt
29.9.2023
29.9.2023 Researchers' night in main building Polaria at 17:30-21:00
Läs mera
1.9.2023
Sodankylä geofysiska observatorium fyller 110 år
Läs mera
15.8.2023
Yhteinen terveytemme II työpaja (finnish only)
Läs mera
15.2.2023
PITHIA TNA call for collaboration with researchers, enterprises and public organizations open now
Läs mera


All news
More coming events
SGO Blog